Rachel Laurin
From pipe-organ.wiki
Jump to navigation
Jump to search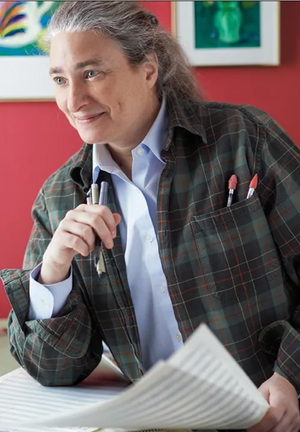 Rachel Laurin
This article is a stub, you can help expand it with more information and citations!
Organ works by Rachel Laurin
Op.
Title
Incipit
Notes
Published
Ref.
6 no.1
Suite Breve
Europart-Music, 1988
[1]
6 no.2
Suite Breve
Europart-Music, 1988
[1]
7
Sonate en Fa
Scherzo
Intermezzo
[1]
13
Hommage a Lucien Daveluy
[1]
16
Scenes vosgiennes
Europart-Music, 1989
[1]
24
Prélude
[1]
26
Variations sur un Noël Lorrain
Europart-Music, 1995
[1]
30
Quatre Pelerinages en Lorraine
1. Procession
2. Invoation
3. Fileuse
4. Marche pour la Paix
Europart-Music, 1996
[1]
31
Trois Pieces
Prelude et Fugue in Si Mineur






Toccata et Fugue in Sol Mineur






Chaconne et Fugue in Mi Mineur





Wayne Leupold Editions, 2012
[1]
36
Symphonie No. 1
Prelude
Scherzo
Aria
Toccata
Wayne Leupold Editions, 2008
[1]
37
Acclamations
[1]
38
Etude Heroïque

Wayne Leupold Editions, 2012
[1]
41
Petite Suite sur un Motet de Gerald Bales
Te Deum Laudamus v.2
RCCO Music Publications, 2005
[1]
43
Douze courtes Pieces
Cantilene
Toccatine
Intermezzo
Fugue "Bouclee"
Moto Perpetuo
Trumpet Tune
Invocation
Fugue "Circulaire"
Choral et Variations
Rondo
Fugue "Carée"
Fugue "Triangulaire"
Wayne Leupold Editions, 2006 (vol.1)
2010 (vol.2)
[1]
44
Introduction and Passacaglia, on a Theme by Raymond Daveluy
Introduction



Passacaglia


Wayne Leupold Editions, 2011
[1]
45
Prélude et Fugue en Fa Mineur
Prelude
Fugue
Winner, Holtkamp-AGO Composition Award 2008
Hinshaw Music, 2008
[1]
47
Partita on "Nun danket"
For organ, piano, or keyboard
Wayne Leupold Editions, 2009
[1]
50
Épilogue

Winner, Marilyn Mason New Organ Music Composition Competition 2009
Wayne Leupold Editions, 2014
[1]
53
Royal Canadian Fanfare
(Douze courtes Pièces, Vol.2)
Wayne Leupold Editions, 2012
[1]
54
Trois Bagatelles
Perpetuum mobile
Meditation
Dance and variations
Organ or harmonium
[1]
55
Symphonie no.2
[1]
56
Greensboro Suite
Wayne Leupold Editions, 2011
[1]
58
Sept Pieces
Fuga comica
Divertimento
Fuga seriosa
Prelude
Soliloquy
Wayne Leupold Editions, 2012
[1]
61
Berceuse a Pierre
[1]
62
Fantaisie et Fugue sur le Psaume Genevois 47
Duo d'orgue
[1]
63
Suite in D Major for Don Menzies
[1]
64
Douze courtes Pieces, vol.3
Wayne Leupold Editions, 2014
[1]
66
Etude-Caprice "Le Rire de Belzebuth"

Wayne Leupold Editions, 2016
[1]
68
Douce courtes pieces v.4
Wayne Leupold Editions, 2016
[1]
69
Poeme Symphonique pour le Temps de l'Avent
On the hymn "creator Alme Siderum" and the Kyrie from Mass XVIII
Wayne Leupold Editions, 2017
[1]
72
Etude Symphonique pour Pedale Solo

Variations sur "That Good Old Baylor Line"
Wayne Leupold Editions, 2016
[1]
73
Fantaisie et Fugue en Ré Majeur
Fantaisie
Fugue
[1]
74
Aria et Fugue pour Aaron
Aria
Fugue
[1]
75
Douze courtes Pieces
Three impressions of Kingsfold
Prélude en canon
Berceuse
Cloches - Three inventions
A "timburine" for Tim
A jazzy jig for Janet
A friendly fency for Frances (Homage to Orlando Gibbons - Three evocations
Pastorale sur "Puer natus"
Maestoso nobile
Caprice sur "Qui regis Israel" - Three visions
[1]
77
Humoresque
Hommage a Marcel Dupré
[1]
78
Finale
Example
Wayne Leupold Editions, 2018
[1]
79
Piece de Concert No.1
[1]
86
Piece de Concert No.2
Hommage a Buxtehude
[1]
91
Sonate pour orgue No.1
Allegro agitato
Berceuse mariale
Carilion-Toccata: Allegro leggiero
[1]
92
Ten little Sketches for Ten little Fingers
The March of the Pretty Princess
The Butterfly
The Clown with a Big Nose
The Snake's Arabesqu
Turn off the Phone!
The Jig of the Bells
The Woodpecker's Fugue
Licorice Twists
The Angels' Rondoletto
The Joyfu Sparrow
Do-Organ (Orgelkit)
[1]
93
Petite Triptyque
Prélude
Légende du Vent
Toccatina
[1]
94
Concert Piece No.3
Mr. Mistoffelees Overture
[1]
95
Fantasia quasi scherzo
[1]
96
Concert Piece no.4
Sweelinck Variations
[1]
97
Concert Piece no.5
Tone Poem in Honour of S. Benedict on "Gaudeamus" and "Laeta Dies"
[1]
98
Etude-Esquisse no.2
Bagatelle burlesque (Hommage a Beethoven)
[1]
99
Cantabile a Deux
Organ duet (two organists one organ)
[1]
100
Thirteen Easy Pieces
Tic Tac Toe
A Crow on the Snow
The Frog and the Bug
Eevning Prayer
The Train
L Lievre et la Tortue
The Clock
The Fiddler
A Spooky Shadow...
The Rabbits Waltz
Canadian Landscape
The sleeping Cat
The dancing Mice
[1]
102
Concert Piece no.6
Fantasy and Fugue on a Swedish Folk Song
[1]
103
Concert Piece no.7
Toccata for a Great Space
[1]
Errors in the publication of this composer's works are tracked on Errors:Rachel Laurin. Please keep About Errors: pages in mind and verify using citations.
References
[
edit
]