Lowell Mason Codex
From pipe-organ.wiki
Jump to navigation
Jump to search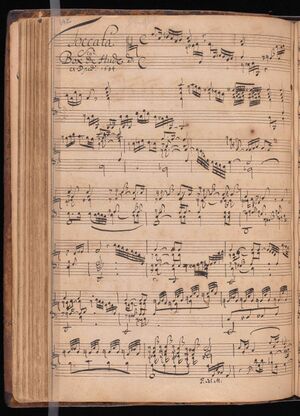 US-NH LM 5056 (also known as Ma21 Y2 L8, The Lowell Mason Codex, or "Codex E. B. 1688") is a manuscript which is held in the Yale University Library. It contains keyboard and organ works by Dietrich Buxtehude, Johann Sebastian Bach, Alessandro Poglietti, and others.
Despite being only one of thousands of manuscripts in the Lowell Mason library that was donated to Yale University, it was dubbed the "Lowell Mason Codex" by Max Seiffert[Citation needed].
Description
[
edit
]
It is believed that the manuscript was written around 1685-88 by Emanuel Benisch.
References
[
edit
]
Beckmann, Klaus (editor). Dietrich Buxtehude: Sämtliche Orgelwerke, Band I-II. Wiesbaden, Breitkopf & Härtel, 1997. 104.
Lowell Mason codex: organ music of the seventeenth and eighteenth centuries. collections.library.yale.edu, accessed 20 July, 2023.