Jean Langlais
From pipe-organ.wiki
Jump to navigation
Jump to search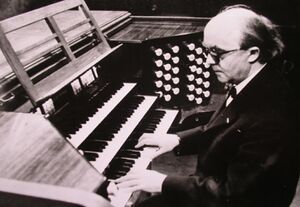 This article is a stub, you can help expand it with more information and citations!
HELP WANTED! Can you help add incipits to pieces listed here?
Organ works by Jean Langlais[1]
Date
Title
Incipit
Notes
Publ.
Ref.[2]
1927
Prelude et Fugue
Prelude
Fugue
Composition prize, Institut National des Jeunes Aveugles, 1928
Universal Edition, 1982
W179
1929
Adoration des Bergers
Only surviving work of Six Preludes (W184).
1982 title: "Chant des bergers"
Revue de la Schola Cantorum, September-October 1938
Das neue Orgelalbum Universal Edition, 1982.
W121
Summer 1929
Theme Libre
Theme assigned by Marcel Dupré for his organ class
W200
1932
Poemes Evangeliques d'apres les textes sacres
L'Annonciation



La Nativite



Les Rameaux


First published organ work of Langlais
Herelle, 1933
W171
1933-1934
Trois Paraphrases Gregoriennes
Ave Maria, Ave maris stella
Mors et Resurrectio
Hymne d'actions de grace "Te Deum"
Herelle, 1935
W162
1933-1939
Vingt-Quatre Pieces
Prelude modal
Hommage
Arabesque
Fugue
Paraphrase sur Salve Regina
Noel avec variations
Choral
Ricercare
Scherzetto
Toccata
Priere pour les morts
Hommage a Fr. Landino
Homo quidam
Allegro
Priere
Choral orne
Pour une Sainte de Legende
Fantaisie sur un theme Norvegien
Prelude et Fuguette
Fuguette
Fantaisie
Chant elegiaque
Point d'Orgue
Impromptu
Herelle, 1939 and 1942
W166
1941-1942
Premiere Symphonie
Allegro
Eglogue
Choral
Final
Herelle, 1944
W197
1942-1943
Neuf Pieces
Chant de peine



Chant de joie



Chant de paix



Chant heroique



Dans une douce joie
De profundis
Mon ame cherche une fin paisible



Prelude sur une antienne
Rhapsodie gregorienne
Bornemann, 1945
W165
1943
Deux Offertoires pour tous les Temps
Paraphrase de la messe "Stelliferi conditor orbis"
Paraphrase de la messe "Magnae Deus potentiae"
Durand, 1943
W155
1946
Fete

First american commission
Modern Anthology
H. W. Gray, 1949
Saint Secilia Series 884-885
W136
1947
Suite Medievale en forme de messe basse
Prelude
Tiento
Improvisation
Meditation
Acclamations
Editions Salabert, 1950
W194
1947
Suite breve
Grands jeux
Cantilene
Plainte
Dialogue sur les mixtures
Bornemann, 1947
W192
1948
Suite francaise
Preludes sur les grands jeux
Nasard
Contreepoint sur les jeux d'anches
Francaise
Choral sur la voix humaine
Arabesque sur les flutes
Meditation sur les jeux de fonds
Trio
Voix celeste
Final rhapsodique
Bornemann, 1949
W193
14-20 February 1949
Incantation pour un jour Saint

Orgue et Liturgie/Paques
Editions Schola Cantorum, 1950
Editions Schola Cantorum, 1980
W141
1950
Four Postlutes for Organ
Brillante e vivo
Presto e leggiero
Vivace
Allegro energico
McLaughlin & Reilly, 1951
W175
1951
Hommage a Frescobaldi
Prelude au Kyrie



Offertoire
Elevation
Communion
Fantasie
Antienne
Theme et variations
Epilogue
Bornemann, 1954
W139
1952
Folkloric Suite
Fugue on "O Filii"
Legende de Saint Nicolas
Cantique
Canzona
Rhapsodie sur deux Noëls
FizSimons, 1954
W137
21 October, 1954
Dominica in Palmis

L'Organiste Liturgique 8/Passion
Editions Schola Cantorum, 1954
Editions Schola Cantorum, 1980
Music 11, no. 3, 1977
W130
1956
Prelude a la messe Orbis Factor
De Praestant, October 1956
W176
1956
Organ Book
Prelude
Pastoral Song
Choral in E Minor
Flutes
Musette
Choral in F Major
Scherzando
Andantino
Epithalamium
Pasticcio
Elkan-Vogel, 1957
W160
1956
Huit Pieces modales
Mode de re
Mode de la
Mode de mi
Mode de si
Mode de fa
Mode de do
Mode de sol
Mode de sol
Philippo, 1957
W168
November-December, 1956
Triptyque
Melody
Trio
Final
Novello, 1958
W201
March 1957
Three Characteristic Pieces
Pastoral-Prelude
Interlude
Bells
Homage to John Stanley
Novello, 1957
W128
July 1957
Office pour la Sainte Famille
Prelude
Offertoire
Communion
Sortie
Organum in Missa Cantata Vol. 1
Christophorus-Verlag Herder, 1959
W157
1958
Miniature
Modified from 1935
H. W. Gray, 1960
W149
1958
Organ Postlude on the Deo Gratias
"Organ Postludes on All the Deo Gratias's by Just as Many Composers"
World Library of Sacred Music, 1960
W161
1957-1958
Office de la fete de la Sainte Trinite
Prelude a l'introit
Offertoire
Communion
Final
Organum in Missa Cantata Vol. 2
Christophorus-Verlag Herder, 1961
W156
1959-1960
American Suite
Big Texas
New York on a Sunday Morning
Californian Evocation
Confirmation in Chicago
At Buffalo Bill's Grave
Scherzo-Cats
Boys Town
Storm in Florida
H. W. Gray, 1961.
W123
11-12 June, 1960
Rhapsodie Savoyarde
W187
1960,1962
Douze Petites Pieces
1
2
3
4
5
6
7
8
9
10
11
12
Published in two separate volumes
Editions Schola Cantorum:
Deux petites pieces dans le style medieval, 1960
Dix versets dans les modes gregoriens, 1962
W163
1962
Trois Meditations sur la Sainte Trinite
Le Pere
Le Fils
Le Saint Esprit
Philippo, 1962
W147
10-11 November, 1962
Essai
Bornemann, 1962
W133
1 March, 1963
Prelude on Coronation
Modern Organ Music 2
Oxford University Press, 1964
W181
1962-1964
Homage to Jean-Philippe Rameau
Remembrance
Allegretto
Meditation
Evocation
As a fugue
United themes
Commissioned for 200th anniversary of the death of Rameau
Elkan-Vogel, 1965
Bornemann, 1987
W138
1965
Poem of Life
Elkan-Vogel, 1966
W173
1966
Poem of Happiness
Elkan-Vogel, 1967
W172
1966
Poem of Pieace
Elkan-Vogel, 1967
W174
1967
Sonate en Trio
Allegro
Andante
Final
Commissioned by the National conservatory for the 1968 examination for advanced organ students
Bornemann, 1968
W190
1968
Prelude dans le style ancien
Zeitgenössiche Orgelmusik im Gottesdienst
Editions Eulenburg, 1970
W178
February 19, 1968
Livre Oecumenique
Sacris Solemnis
Du fond de ma detresse
Verbum Supernum
Notre Dieu est une puissante forteresse
Ave Maris Stella
Mon ame exalte le Seigneur
Pater Noster
Notre Peree qui es aux Cieux
Kyrie
Kyrie, Dieu, Pere Eternel
Gloria
Gloire a Dieu au plus haut des Cieux
Bornemann, 1968
W144
30 August, 1968
Adoration
Zeitgenössische Orgelmusik im Gottesdienst
Editions Eulenburg, 1970.
W120
1970
Trois Implorations
Pour le Joie
Pour l'indulgence
Pour la Croyance
Bornemann, 1970
W140
1971
Offrande a Marie
Mater admirabilis
Consolatrix afflictorum
Regina Angelorum
Regina Pacis
Mater Christi
Maria Mater Gratiae
Philippo, 1972
W158
1971
Cinq Chorals
Gesegn uns, Herr, die Gaben dein
Jauchzt, alle Lande, Gott zu Ehren
O daß doch bald dein Feuer brennte
Wie lieblich schön, Herr Zebaoth
Wir wollen singn ein' Lobgesang.
Choralvorspiele für den Gottesdienstlichen Gebrauch
Bärenreiter, 1975.
W129
20 January, 1972
Supplication
Stichting Internationaal Orgelcentrum, Haarlem, Holland, 1972
W195
1973
Cinq Meditations sur l'Apocalypse
Celui qui a des oreilles, qu'il ecoute
Il etait, il est, et il vient
Visions phophetiques
Oh oui, viens Seigneur Jesus
La Cinquieme trompette
Bornemann, 1974
W146
1974
Plein jeu a la Francaise
Music Supplement, Revue de Musique Sacree, La Procure du Clerge, 1974
W170
November 1974
Huit Chants de Bretagne
Le Paradis
Disons le Chapelet
Angelus
Noël Bretun
Jesus, mon Sauveur beni
Jesus nous dit de prier
Aux lys avec leurs feuilles argentees
Penesz a l'eternite
Bornemann, 1975
W127.
1975
Tois Esquisses Gothiques
Veni Creator
Virgo Dei Genitrix
Sequence pour la fete de la Dedicace
For two organs, second organ ad lib.
Bornemann, 1977
W131
1975
Tois Esquisses Romanes
Sequence Hac Clara Die - Tu Autem
Kyrie Rex Splendens
Jerusalem mirabilis
For two organs, second organ ad lib.
Bornemann, 1976
W132
1975
Quatre Preludes
1
2
3
4
W183
14 January, 1975
Celebration
Dedicated to Frank Cunkle
W126
1976
Mosaique I
Stele pour Gabriel Faure
Sur la tombe de Buffalo Bill
Double Fantaisie pour deux organistes
Boys town, leiu de paix
Combre, 1977
W151
1976
Mosaique II
Gable
Images
Trio
Complainte de Pontkalleg
Salve Regina
Combre 1977
W152
6-7 March, 1976
Six Petites Pieces
Trio
Repeated notes
Legato
Staccato
Chords
Rhythms
Written for Allen Hobbs for his Method of Organ Playing
W164
1977
Mosaique III
Lumiere
Parfum
Printemps
Themes
Pax
Double Fantasie #2
Combre, 1978
W153
1977
Ave Maris Stella, Choral pour orgue
W124
19-20 December, 1976-
11 January, 1977
Deuxieme Symphonie "alla Webern"
Prelude
Lude
Interlude
Postlude
Combre, 1977
W196
1978
Progression
Monodie
Duo
Larmes
Offering
Fugue et Continuo
Bornemann, 1979
W186
1978
Triptyque Gregorien
Rosa mystica
In Paradisum
Alleluia
Universal, 1979
W202
rev. 1979
Troisieme Symphonie
Introduction
Cantabile
Intermezzo
Un dimanche matin a New York
Orage
Revised from American Suite
W198
5 August, 1979
Prelude Gregorien
Hommage a Jean Langlais
Hal Leonard, 1996[3]
W180
September 1979
Noels avec Variations
Noël 1
Noël 2
Noël 3
Universal, 1981
W154
21 October, 1979
Offrande a une ame, Diptyque
Vers la Lumiere
Dans la Lumiere
Written in memory of Jean's wife Jeanette
Bornemann, 1980
W159
20 June, 1980
Marienstatt Chorals
Lobpreiset all zu dierser Zeit
Erfreue dich, Himmel
Freu dich, du Himmels Königin
Pange Lingua
Assorted volumes of Marienstatter Orgelbüchlein
Breitkopf & Härtel
W145
22 April-21 June, 1980
Rosace
Pour une celebration
Introduction et Marche
Croquis
Feux d'Artifice
Combre, 1981
W188
1971, 1981
Priere des Mages
Originally part of third organ concerto, cut from concerto publication
Universal, 1982
W185
1 July, 1982
Prelude et Allegro
Universal Edition, 1985
W179
1983
Cinq Soleils
Soleil du Matin
Soleil de Midi
Soleil du Soir
Soleil des Etoiles
soleil de France
Combre, 1983
W189
June 1983
Sept Etudes de Concert
Chromatique
Countrepoint 1
Alternances
Contrepoint 2
Staccato
Trilles
Alleluia
Pedal solo
Universal, 1984
W134
June 1983
Deux Pieces Breves
Breve 1
Breve 2
La Pléiade grade level: "Elementaire 1.2"
Combre, 1983
W167
1984
Methode d'Orgue
Combre, 1984
W148
27 December, 1983-
16 January, 1984
Huit Preludes
Unx voix
duo
Trio
4 voix
5 voix
6 voix
7 voix
8 voix, Troisieme fantaisie pour 2 organistes
Bornemann, 1984
W182
March 1984
Miniature II
Collection La Pléiade level: Elementaire 2
Combre, 1984
W150
1985
Drei Leichte Stücke für Orgel
Libre
Recitativ
Allegro
Pro Organo, 1986
W143
28 May-10 June, 1985
Talitha Koum
Salve Regina
Regina Caeli
Alme Pater
1-7-8
Title is a reference to Mark 5:41
Combre, 1985
W199
September 1985
B.A.C.H.
Six pieces composed for the 300 year anniversary of the birth of Johann Sebastian Bach
Bornemann, 1985
W125
1986
In Memoriam
"A la memoire de mom maitre, Charles Tournemire"
Combre, 1987
W142
1986
Fantasy on two Scottish Themes
Commissioned in recognition of the composer's 80th birthday
Novello
W135
12 February, 1986
American Folk-Hymn Settings
Amazing Grace! How Sweet the Sound



Battle Hymn of the Republic
How Firm a Foundation
There is a Fountain Filled with Blood
When I can read my Title clear
On Jordan's stormy Banks I stand
FitzSimons, 1986
W122.
13 March, 1987
Trumpet Tune
W203
1988
Contrastes
Glas
Allegro
Kyrie
Piece de concert
Henry Lemoine
[3]
1988
Expressions
see Expressions (Langlais, Hakim)
Fitzsimons FO 624
[3]
1988
Christmas Carol Hymn settings
O Come, all ye faithful
Angels we have heard on high
In dulci Jubilo
Joy to the World
He is born
Silent Night, Holy Night
FitzSimons FO 627
[3]
1990
Trois Offertoires
1
2
3
Combre, 1991
[3]
1990
Moonlight Scherzo
Combre, 1990
[3]
1990
Mort et Résurrection
Mort
Résurrection
In honor of the memory of Jehan Alain
Leduc, 1990
[3]
1990
Trio
"Collection Panorama"
Contemporary Organ works 3
Editions Billaudot
[3]
1991
[trois pieces]
Plein jeu a la Francaise
Virgo Maria
Cum Jubilo
Europart, 1991
[3]
Errors in the publication of this composer's works are tracked on Errors:Jean Langlais. Please keep About Errors: pages in mind and verify using citations.
References
[
edit
]